---
Enjoy the festive season with a delicious Chocolate Yule Log, simple to make using your Kenwood Mixer.
Ingredients
For the sponge:
4 eggs
110g caster sugar
1 tsp vanilla extract
110g plain flour
3 tbsp cocoa powder
0.5 tsp baking powder
For the cream filling:
500ml double cream/whipping cream
40g icing sugar
½ tsp vanilla extract
2 tbsp liqueur (optional)
a handful of fresh raspberries (optional)
For the ganache:
200g dark chocolate, broken
1.5 tbsp unsalted butter, softened
220g whipping cream
To decorate:
Fresh cranberries or raspberries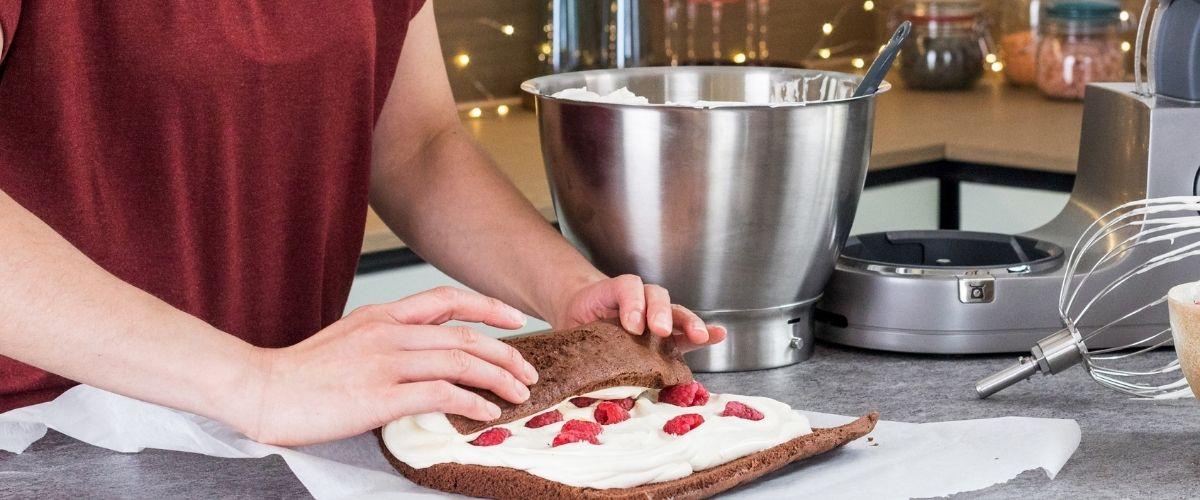 Method
To prepare, preheat the oven to 180°C and line a swiss roll tin with parchment paper.
Attach the 5L Mixer bowl to the machine
Add the egg, sugar and vanilla into the mixer bowl, then fit the whisk tool.
Start the machine on speed to 6 for 3 minutes, then add the flour, cocoa and baking powder into the mixer bowl.
Start the machine on speed 2 for 1 minute.
Pour the batter to the prepared swiss roll tin and bake for 12 minutes at 180°C.
Once baked, remove from the oven and allow the cake to cool slightly.
Lay a piece of parchment paper on a work surface, then turn out the cake onto the paper and remove the previous sheet of parchment.
Carefully roll the cake into a log from the shorter side up and leave to cool.
Clean the 5L Mixer bowl and attach to the machine, then fit the Whisk.
Add the whipping cream, icing sugar, vanilla extract and liqueur. Start the machine on Min speed then increase to Speed 5 for 2 minutes 30 seconds.
Unroll the cooled cake and spread the cream filling onto the cake.
Scatter the raspberries over the cream, then roll the cake back up into a log.
Trim the ends and gently place onto a serving dish, seam side down.
To make the ganache, attach the 7L EasyWarm bowl to the machine, fitted with the creaming beater.
Add the dark chocolate, butter and whipping cream and select the 'chocolate melting' preset.
The mixture will thicken as it cools, so transfer to a medium bowl then cover and refrigerate for 30 minutes (no longer otherwise it will solidify).
---
Serves: 6 people
Prep Time: 5 Minutes
Cooking Time: 12 Minutes
Processing Time:1 hour 30 minutes (includes cooling time)
Total Time:1 hour 50 minutes
Click here to view our full range of Kenwood Products
Recent Posts
Celebrate Halloween with your favourite kitchen appliances and make sweet treats and seasonal drinks …

We are proud to have selected AsIAm, Ireland's national autism charity as our charity partner.By wo …

It is that time of year again where we need to start preparing for a new school year. Whether you …