Create comforting meals to warm up the darker evenings with some of our must have Kitchen appliances from Expert. We have a brilliant range of soup makers & slow cookers to help you easily create your favourite Autumn recipes.
The fuss-free way to make delicious soup, just the way you like it. In as little as 21 minutes, you can be sitting down with a bowl of fresh, homemade and nutritious soup.
Curried Pumpkin Soup with Hummus
Ingredients:
600g pumpkin, chopped
200g potato, chopped
1 leek, white part only, washed and sliced
2 cloves garlic, crushed
3 cups (750ml) hot vegetable stock
2 teaspoons mild curry powder
Pistachio dukkha, hummus, sliced red chilli and coriander, to serve
Method:
Place the pumpkin, potato, leek, garlic, hot stock, and curry powder into the Soup Maker Jug.
Place the Lid on the Jug and select the Smooth setting. Press start.
When the soup is ready, season with salt.
Place the Lid on and press and hold the Smoothie/Blend Button for 15 seconds before serving.
Pour into serving bowls.
Top with hummus, chilli, and coriander to serve.
---
Simple Vegetable Soup
Ingredients:
700g assorted vegetables, diced.
Water (to MAX mark)
2 chicken or vegetable stock cubes
Salt and ground black pepper
Method:
For a quick smooth soup fill the Soup Maker past the MIN mark with a selection of diced vegetables (using ready prepared chopped vegetables is ideal.)
Add the vegetable or chicken stock cubes and fill to the MAX mark with water.
Select the smooth setting. Once the soup is ready, season to taste and serve.
Cooking time: 21 minutes
Setting: Smooth Serves: 4
---
Great for people who want to enjoy nourishing meals but simply don't have the time or energy to prepare ingredients at the end of a busy day. The clever chalk board feature allows you to leave messages for your family, tell them what's cooking or keep a note of your ingredients or timings if you're following a recipe.
Vegetarian Curry
Ingredients
1 tbsp cooking oil
½ onion, chopped
½ clove garlic, crushed
¼ tsp chilli • ¼ tsp turmeric
¼ tsp coriander
¼ tsp cumin
50g lentils
300ml white stock
½ tsp lemon juice
1 small carrot, diced
½ apple, peeled, cored and chopped
15g sultanas
salt and pepper to taste
Method
Heat the oil in a pan. Lightly sauté the onion and garlic.
Add the turmeric, chilli, coriander, cumin and lentils. Cook gently for a minute.
Stir in the stock, lemon juice, salt and pepper. Bring to the boil and boil for 5 minutes.
Transfer to the cookpot and stir in the carrots, apple and sultanas.
Cook for 6-10 hours on Low or 3 - 4 hours on High
---
Beef Stew
Ingredients

3 Carrots, peeled and diced
3 large potatoes, peeled and diced
1 large onion, sliced
1 1/2kg of beef, cubed
500ml beef stock
1 can (400g) of chopped tomatoes
1 tsp whole black peppercorns
260g frozen peas
1 tbsp minced fresh parsley
Salt and pepper to taste
Method
In a large frying pan, brown the beef over a high heat for a couple of minutes
Preheat the slow cooker 20minutes on High.
Layer carrots, potatoes and onions in the bottom of the slow cooker's ceramic bowl. Then top with beef, bay leaf, and black peppercorns.
In a large mixing bowl, combine the stock, tomatoes and thyme. Pout over the meat and vegetables.
Place the lid on the slow cooker and cook 3-4 hours on HIGH or 7-8 hours on LOW.
Stir in the peas 15 to 20 minutes before serving and cook on HIGH.
Taste and adjust seasoning, stir in the parsley and remove bay before serving.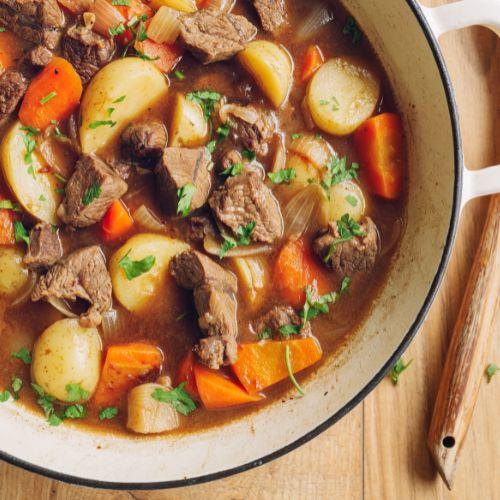 About Expert Electrical
Expert Electrical is Ireland's largest electrical retailer with 67 Expert stores located nationwide.
Expert Electrical Stores are locally owned and run, provides hundreds of jobs in local communities across Ireland, by shopping at Expert Electrical you are supporting local. Find your local Expert here.
We work with the leading industry brands to bring our customers the latest in technology and appliances. We pride ourselves on our product knowledge and the high level of customer service that we provide to our customers.
Recent Posts
Celebrate Halloween with your favourite kitchen appliances and make sweet treats and seasonal drinks …

We are proud to have selected AsIAm, Ireland's national autism charity as our charity partner.By wo …

It is that time of year again where we need to start preparing for a new school year. Whether you …